Custom Wristband Signs, Dugout Cards, Lineup Cards and More by New Diamond Sports
One stolen or missed sign can cost you a game...or even a championship. You need a wristband sign system that can prevent that.
Baseball and softball wristband signs matter. Why? Well, you and your team put in hours of hard work to get ready to compete at the highest level.
Don't let all of that effort get flushed down the drain because of a missed or stolen sign. You need wristband signs for baseball and softball that can handle all of the offensive, defensive and pitching signs that you need to communicate during the course of a game.
You need a wristband sign system that is easy for your players to follow and impossible for other teams to steal.
And hopefully you don't have to spend hours setting it up. Or hundreds of dollars.
Because you belong on the field with your baseball or softball team...not in front of a computer.
The New Diamond Sports Difference
There are other wristband sign systems on the market. They want to charge you a big, up-front fee. And they don't even let you try out their software before shelling out hundreds of dollars.
We are confident that we have designed the best and easiest-to-use wristband signs for softball and baseball on the market.
And we're so confident that you and your team will love it that we let you try it out for free for 7 days.
If you think our wristband sign software is right for you, we still won't hit you with a big license fee, or hundreds of dollars in sign-up charges. Our plans start at $3.95 per month. With discounted annual plans available. And you can cancel any time. No phone call required. No hard sell. We simply want you to love the product and pay a fair price for something that saves you time and helps your baseball or softball team be more competitive.
Register Today for a free, no-risk 7-Day trial and see if New Diamond Sports can help give your team the winning edge
OUR WRISTBAND SIGNS FOR BASEBALL AND SOFTBALL ARE FAST AND EASY
---
What if you could create an entire baseball and softball wristband card in less than one minute?
Check out the New Diamond Sports one-minute wristband challenge
OUR WRISTBAND SIGN SOFTWARE IS AFFORDABLE
---
What if your baseball and softball sign software didn't cost an arm and a leg?
OUR BASEBALL AND SOFTBALL WRISTBAND SYSTEM IS FLEXIBLE
---
We give you tons of great features
...and we're always adding more
Build baseball and softball wristbands on a mobile phone, tablet or desktop

Create offensive, defensive and pitching cards to fit any wristband

Store UNLIMITED signal wristbands in the cloud

View your sign card onscreen as you build it

Add player names to individual wristband sign cards

Grant access to assistant coaches (up to 5 total users) and let THEM handle the wristband sign cards

Create multiple sets per card, so opponents can't figure out your signs when you play them multiple times

Customize the size and look of the coaches' sign sheet

You can have multiple coaches' sign sheet designs: a simple one for base coaches and a different one for the dugout

Organize pitching signs by pitching zone

Multiple grid sizes: 56, 96, 150 or 216 signs per card

Print in full color (16 million colors) or in black & white

Archive signs and pitching zones for use on multiple cards

NEW BONUS: Custom dugout cards

NEW BONUS: Custom score sheets

NEW BONUS: Custom lineup cards

...and MORE coming soon...
New Feature: Custom Dugout Cards, Lineup Cards and Score Sheets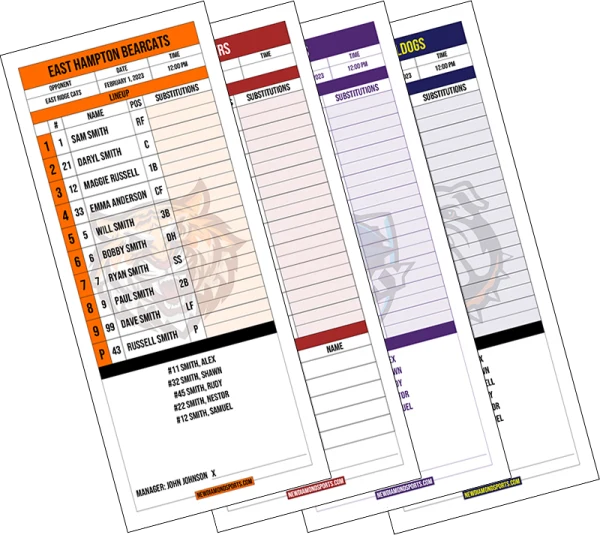 Now you can create custom dugout cards, lineup cards and score sheets that will help you, your coaches and your scorekeepers stay organized in the middle of games.
The other (more expensive) wristband sign software vendors don't offer anything close to this benefit!
QUESTIONS?
---
Browse our FAQs for more info
Ready to try it for free today?
Spend more time coaching your baseball or softball team...and almost no time building wristbands